Join Today!
As little as $15/month or $120/year provides exceptional value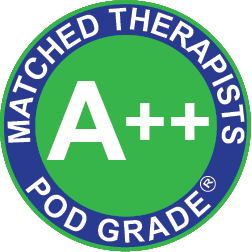 Get access to the first scientific referral system in healthcare (read the science here). The referrals you receive will be exceptionally well-matched with your therapeutic skills. You also gain free access to the world's best outcome assessment system that makes data collection, reporting and tracking a breeze.
MatchedTherapists.com is proud to present the first scientific referral system in healthcare. A federal randomized clinical trial has proven that the grades we assign to your listing, based on tracked assessments, can improve your chances of obtaining better outcomes with patients referred to you.
As published in JAMA, virtually every therapist has a "POD" of clients ('paired on outcome data') with whom they achieve exceptional outcomes. We give you the tools to help you discover who is in your POD and will send these referrals to you. Further, we work with health plans to earn you higher rates of reimbursement for taking high POD Grade® referrals!
---
Matched Therapists
Copyright © 2020-21 · All Rights Reserved · Matched Therapists
v.0.90b
Protected by U.S. Patents 7,873,525 and 7,415,663. Other patents pending worldwide.