Matched clients get better, un-matched clients do not.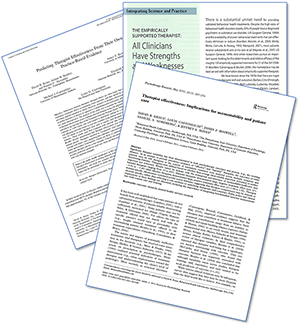 The chances of finding a well-matched therapist have been rather random. Most clients do not see a well-matched therapist and treatment progress is often non-existent.
In fact, federal research has shown that clients seeing poorly matched therapists show little progress, while clients in well-matched treatment not only improve, they finish treatment healthier than the general population!
A well-matched therapist is one whose outcome data documents that they are exceptional at handling the same issues as the client's. For example, if a client is struggling with anxiety and work, a well-matched therapist will have shown they are exceptional when helping clients with these issues.
The process to find an exceptional therapist is simple ... and scientific.

1. ASSESS - To start, assess your issues to begin the scientific Match process. The assessment takes 5-10 minutes and will generate an anonymous, free report on your well-being.

2. SEARCH - Enter your zip code and search through the exceptionally well-matched therapists near you. Sort by things like distance to travel. Filter based on things like insurance and age. View their pictures and profiles. Create your short list of preferred therapists.
3. ASK - Once you pick a few therapists that look right for you, you need to contact them. If you don't know what to ask or say, we walk you through how to finalize your selection and start treatment with great confidence! It's that easy to find an exceptional therapist for you.
Use the basic system for FREE. Upgrade accounts cost as little as $1/month and allow you to store your assessments, come back later and track your progress.
---
Matched Therapists
Copyright © 2020-21 · All Rights Reserved · Matched Therapists
v.0.90b
Protected by U.S. Patents 7,873,525 and 7,415,663. Other patents pending worldwide.